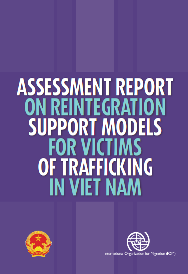 Assessment Report on reintegration support models for victims of trafficking in Viet Nam
Mã sách: TRA - 146
Tác giả:
Nguồn: IOM, Cộng Hoà XHCNVN
Năm xuất bản: 2014
Ngôn ngữ: Tiếng Việt
Số trang:
Chủ đề: Mua bán người
Giá: Miễn phí
TÓM TẮT NỘI DUNG:
The Government of Viet Nam has completed the first phase National Plan of Action (NPA) on Counter-trafficking for the period 2006 – 2010 and has developed the next NPA for the period 2011 – 2015. The "Assessment Report on Reintegration Support Models for Victims of Trafficking in Viet Nam" intends to inform the Vietnamese Government's protection efforts under the NPA by assessing the relevance, effectiveness, efficiency and sustainability of the existing models of return, recovery and reintegration projects undertaken by the Ministry of Labour, Invalids and Social Affairs (MOLISA) in partnership with IOM. The knowledge and recommendations from the evaluation will be used not only to refine the existing programme but also to set a strategic direction for future technical support and advocacy to provincial and central authorities, including new projects in the field of victim protection. This report is published by IOM Vietnam in partnership with the Department of Social Evils Prevention (DSEP) of MOLISA under an IOM/MOLISA project funded by the IOM Development Fund. The report, together with the recorded achievements, challenges and lessons learned, will provide a basis for capacity – building and advocacy. Information on effective practices and practical recommendations will serve as important inputs to the developments of relevant policies and design of programmes for supporting victims of trafficking.

SÁCH CÙNG CHỦ ĐỀ

CHIA SẺ