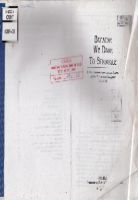 Because we dare to struggle
Mã sách: GBV - 31
Tác giả:
Nguồn: Philippines, 1992
Năm xuất bản: 2013
Ngôn ngữ: Tiếng Việt
Số trang:
Chủ đề:
Giá: Miễn phí
File tài liệu chưa được tải lên !
TÓM TẮT NỘI DUNG:
"This is the second documentation report on violations of women's civil and political rights which covers the period from 1990 to June 1992. Despite the Aquino government's pronouncements to protect human rights, many Filipinas continued to be victims of illegal arrests, denial of counsel, hostaging, ""salvaging"" or summary execution, ""disappearances"", rape, sexual molestation and other forms of physical torture while in the custody of the military or police units. "

CHIA SẺ